Craig Stadler
The Walrus was the immediate, visceral reaction to golf mustaches. His is beautiful. It's bushy, a lighter shade and, frankly, the reason people compare him to the long-toothed sea monster. As Stadler has grown longer in the tooth, however, he's replaced the 'stache with the goatee. Not as cool.
Gary McCord
@RyanBallengee go ahead and say..... Gary McCord

— Bill Ranson (@BillRansonGolf) November 1, 2013
When we went to Twitter to ask for suggestions, two names came up immediately. One of them was Gary McCord. Of course! His handlebar mustache is a delight to see, even if it's rare because McCord is in the booth for CBS Sports. Just because you can't see it, however, doesn't mean it isn't there. Mike "Fluff" Cowen
@RyanBallengee FLUFF. — Liz Drabick (@ldrabick) November 1, 2013
Another brilliant choice from Twitter. Why else would a guy be called "Fluff"?! The former caddie to Tiger Woods and long-time looper for Jim Furyk has a legendary 'stache that has survived Cowan's weight loss over the years. Corey Pavin
In the Major Champions division, Corey Pavin has to give Stadler a run for his money for Best 'Stache honors. The hair-stache combo Pavin donned earlier in his career is the stuff of legend. It's a real shame the guy ditched facial hair entirely later in life -- maybe even to the detriment of the 2010 Ryder Cup team he captained.
@RyanBallengee If Pavin would've had his 'stache at Celtic Manor, that Ryder Cup would've been ours. — Mike Grau (@Michael_Grau) November 1, 2013
Andres Gonzales
@RyanBallengee I think Andres Gonzales wins pic.twitter.com/L3cNbOrqc8

— Adam Stanley (@adam_stanley) November 1, 2013
Half man, half amazing. That's Andres Gonzales. And half of that amazing may well be his mustache. It's big, like Gonzalez's personality. The fu-manchu is unique to the sport, but Gonzales pulls it off brilliantly in tandem with the long hair. We imagine a loss of either portion would be likely Samson losing his locks: disaster.
Bart Bryant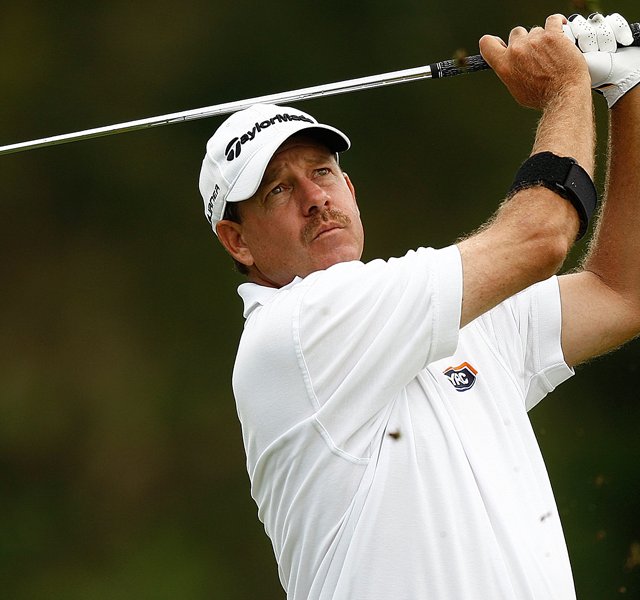 This was a good pull by a Twitter follower. Bryant flew under the radar, save for a few seasons in the early 2000s, in his career, but his mustache is trademark. Kinda like his straight-laced roots, there's nothing fancy about it or him, but it works.
@goldenpawing and I vote for Bart Bryant RT @RyanBallengee: Craig Stadler is the obvious choice, but the best mustache in golf history is?

— David Popp (@davidpopp) November 1, 2013
Sam Torrance
The Scot didn't get mentioned on Twitter, but he deserves some credit for a beautiful mustache. Torrance is a master of facial expression, highlighting his facial hair all the more. We honestly wouldn't recognize the guy without his mustache.
Johnson Wagner
Johnson Wagner typically looks like a 16-year-old boy playing the PGA Tour. We're half-expecting his voice to crack sometimes. But when he had a 'stache in 2012, he was a stud...and a winner in Hawaii. Eventually, he ditched the facial hair and, sadly, his mo'.
Geoff Ogilvy
You can't talk about Movember without bringing an Aussie into the discussion. They started this thing. Geoff has a small stache, which typically is the worst kind of mustache because it's a meager acknowledgement that there's hair growing above the lip. For the '06 U.S. Open champion, however, it works when he does it.
What if Tiger Woods, Phil Mickelson and others grew a mustache? Golfweek did the Photoshop work for us, wondering what they'd look like.