A Houston-area restaurant has "honored" quarterback Matt Schaub with an offer to let patrons pick six toppings to put on their hamburger. (The joke is that Schaub throws a lot of costly interceptions.)
So, in honor of the Presidents Cup, we thought we'd come up with some burgers of our own for PGA Tour players.
Phil Mickelson: The Laid Egg
Have you ever had a burger with a fried egg on top of the patty? It's pretty awesome. It just adds something to the experience that you don't expect. And that's precisely Phil Mickelson. He's a good burger and, depending on how you want to take the egg analogy, either lays an egg sometimes or does something so special that there's nothing like it out there.
Tiger Woods: Five Guys 14-Stack Burger
At Five Guys, you can get more than just one patty with a burger. You can get as many as you want, really. And all of the patties you get are delicious. But with how cool and mainstream Five Guys has become, people forget just how good it is. And then they go into a Five Guys one afternoon and remember.
Steve Stricker: The Elk Burger
The semi-retired Steve Stricker turned down an opportunity to go on an elk-hunting trip to play in the Tour Championship. It turned out to be a good decision, as he finished third in the FedEx Cup, netting millions in the process. With all of that money, he can cook up some lovely ground elk.
Jason Dufner: Completely Plain Burger
Since Jason Dufner never shows any kind of emotion or fire on the golf course, it seems the perfect burger to describe him would be a plain McDonald's 59-cent hamburger. Nothing on it, except maybe a crappy pickle and some bland ketchup.
Zach Johnson: The Sloppy Joe
A Sloppy Joe isn't a burger, but it is made of ground beef. And it's messy. And it gets all over the place. If you're not getting the explosive diarrhea analogy, there's no hope for you.
Keegan Bradley: In N' Out Animal-Style Burger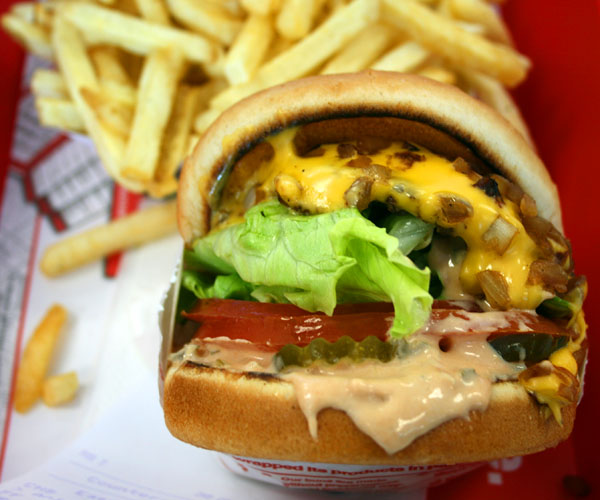 Of the 12 guys on the American Presidents Cup team, Keegan Bradley seems most like an In N' Out guy. First of all, he teams with Phil Mickelson very well, who owns the franchise rights to a number of Five Guys locations, so he's with a burger wonk. Second, Bradley was a match-play secret, like having a burger done animal style. He was a secret, unexpected and brilliant spark at the 2012 Ryder Cup.