What better way to celebrate the U.S.A.'s 238th birthday than by teeing it up? (Fireworks, sure. Hamburgers, maybe.)
But you may want to take your patriotism on the links to the next level. You don't want to just dress in red, white and/or blue. Playing with American-colored tees is something you do every day. You want to play where every the name of the club honors our country.
It's for that reason we've compiled a short list of the most patriotic golf courses in the United States, solely based on their name.
1001 Lebanon Road
The Colony, TX 75056
Phone: (972) 370-4653
Opened late in 2010, Old American Golf Club in The Colony, Texas, was co-designed by 1997 Open champion Justin Leonard and Tripp Davis. The course uses native grasses and the natural contours of the property to shape an 18-hole experience billed as a throwback to the simpler days of course design. There's also a variety of wildlife that inhabits the course, including the Red Tail Hawk. It's not a bald eagle, but big and beautiful Texas is about as American as it gets.
Green fees are $125 from Monday-Thursday and $150 on Fridays, weekends and holidays.
5790 N Patriot Dr.
Owasso, OK 74055
Phone: (918) 272-1260
The Patriot Golf Club is about as old as Old American is -- opened in 2010 -- and has enjoyed a boost in reputation thanks to its partnership with the Folds of Honor Foundation, serving as their golf home.
Robert Trent Jones Jr. designed this Oklahoma track which sits on some of the more diverse topography and terrain in the country, including lowland marsh, heavy woodlands, high prairie, and limestone canyons. There is no rough on the property and the A1-A4 Bentgrass greens are the pride of the club.
But you need to know a Patriot to play the course; it's a private facility.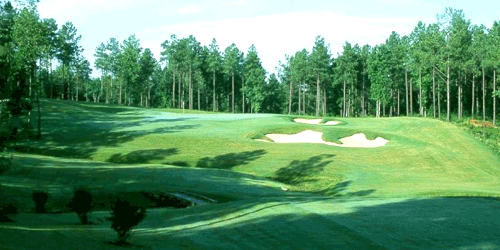 Founders Bridge Boulevard
Midlothian, VA 23113
Phone: (804) 601-8600
This mid-Virginia course has the holiday in its name!
Independence Golf Club is located west of Virginia's capital of Richmond. The Tom Fazio-designed courses is a daily-fee facility which boasts an 18-hole championship course and nine-hole executive layout. The championship course is undergoing a total renovation this summer, with the grand re-opening slated for October.
3570 Jackson Dr
Marine Corps Air Station
Cherry Point, NC 28533
Phone: (252) 466-3044
Located at the Marine Corps Air Station at Cherry Point, Sound of Freedom Golf Course is George Cobb's first-ever 18-hole design. The greens are a dwarf Bermuda hybrid, taking advantage of the course's situation along the Neuse River. And when there isn't sunlight to play the course, there's a 24-hour driving range.
It never costs more than $32 to play the course.